Sussex's Tom Walsh is loving his new life in sunny Florida under coach Wael El Hindi in a stable of players that also includes Amanda Sobhy and Diego Elias.
But less than two years ago, the easy-going 23-year-old suffered a series of panic attacks as he was about to take to the court.
Now an ambassador for sports mental health charity Sporting Chance, Walsh has told Squash IQ that the taboo surrounding mental health in men's sport prevented him from seeking professional help sooner.
In our big interview with him, the up-and-coming world number 91 also opened up on how working with 'The Hitman' El Hindi has improved his movement, and revealed which player he regards as the G.O.A.T of the modern era.
'I thought I was done'
Walsh's own mental health issues came to a head during the first national lockdown in 2020 when the hiatus created by the tour's suspension led him to experience heightened anxiety, insomnia and blackouts.
Eventually, he sought help from Sporting Chance, a mental health charity aimed specifically at professional athletes.
Although the counselling it provided helped Walsh through this tough period (as he talked about in depth in April 2021 here), his anxiety issues flared up again after the tour resumed in earnest in the summer of 2021.
"I'd had a good 16 months where I'd had mental health struggles, but I'd almost had a shield around myself because I wasn't being subjected to professional squash," he told Squash IQ.
"I remember my first PSA event back, where I had a panic attack before the match. I thought I was done.
"I'd created such [a feeling of] 'oh my God, it's my time again', that I was sick before the match in the toilet. It wasn't until I accepted in my mind that I'd lost the match that [the panic attack] stopped.
"The first three or four tournaments back it kept happening. I was seizing up on court and feeling horrendous on there," he continued.
"Then through the work with the charity and support they gave me, I was able to get through all that and find a healthy balance between trying my absolute hardest but having the mindset that it doesn't matter if you don't win."
Tom Walsh on breaking taboos
Part of Tom Walsh's rationale for talking so openly about his own struggles is to help break the taboo surrounding mental health in men's sport.
In an interview last month, Malaysian squash pro Eain Yow Ng argued that "there is still a lot of stigma around mental health for the male players", adding that there remains a perception that you can't show weakness in the sport (see below).
"I felt the exact same thing," Walsh confided.
"One of the reasons I took so long to get the help I so desperately needed was because I was a male athlete. Your instilled behavioural trait growing up as a man is that you're designed to not show weakness."
Language can play a role in reinforcing these stereotypes, Walsh acknowledged, noting how boys are often told to "man up".
"Having used that negative language myself, I know there's a fine line between having banter with friends and taking it too far," he said.
"The more it's talked about [the better], and I believe there is a shift in sport overall where these conversations are happening more frequently."
Glass caldron
As an individual sport played in a glass box in close proximity with another player, and one that often entails travelling internationally alone, squash can throw up some unique challenges for players, Walsh agreed.
"It's an 9.8m by 6.4m court. It's not a big space. And the door is shut behind you – it's a closed space. In tennis, you are separated by a net. I don't know any other sport like it," Walsh said.
"The Challenger tour is brutal," Walsh added.
"If you go out in the early rounds, you're making a loss financially. So you have that pressure of having to win your matches to pay for your trip.
"Then these glass courts in places like Grand Central Station are unbelievable venues, but if you're not playing well you're in a glass box and everyone's staring at you. You're under the microscope.
"It definitely has its challenges, both financially and mentally. But on the flip side, when you're playing well in those big venues it's probably the best feeling in the world."
One-way flight to Florida
Fortunately, Walsh feels he is now playing the best squash of his career after uprooting his life at the start of the year to join Wael 'The Hitman' El Hindi's coaching stable in Florida.
Walsh was quick to praise his English coaching team of Tim Vale, Paul Carter and Adam Fuller (labelling the latter "an unbelievable coach, who doesn't get the credit he deserves"), and will return to England on 1 April.
But the link up with El Hindi has added new subtleties to the Hove-based player's game, particularly when it comes to his movement onto the ball, he revealed.
"In early January, I got pretty much a one-way flight out to Florida," Walsh explained.
"I've worked with a lot of high-level coaches in England, and this is no disrespect to any of the coaches I've worked with, but Wael explained things in a way that I got."
Moving like the Peruvian Puma
Boasting four resident pros in the shape of Walsh, Jeremias Azaña, Amanda Sobhy and Diego Elias, El Hindi's Kinetic Indoor Racquet Club in Boynton Beach has also hosted visiting players including Miguel Angel Rodriguez, Marwan Elshorbagy and Abdulla Al Tamimi.
El Hindi's training regime is geared towards moving well, Walsh explained.
"Basically, he's trying to teach us all to play like Diego," he said.
"I was speaking to Tim about this the other day and we were laughing about how smooth Diego is around the court. But having watched Diego play and trained on court with him and Wael, I now completely understand how he does it.
"I'm not saying I could do it, but I can see that it's a lot about body position, footwork and combining your racket with your swing. It's very simple stuff.
"Wael gave me a tip the other day that I had been tracking the ball off the front wall rather than the floor – so when I'd been moving up for a drop shot my head's been too high and I've been potentially over-running the ball, rather than focusing on where the ball is going to land.
"He has an eye for detail. He points out the simple things that other coaches may let slide. It's just around movement, sustainability and being clever with your squash."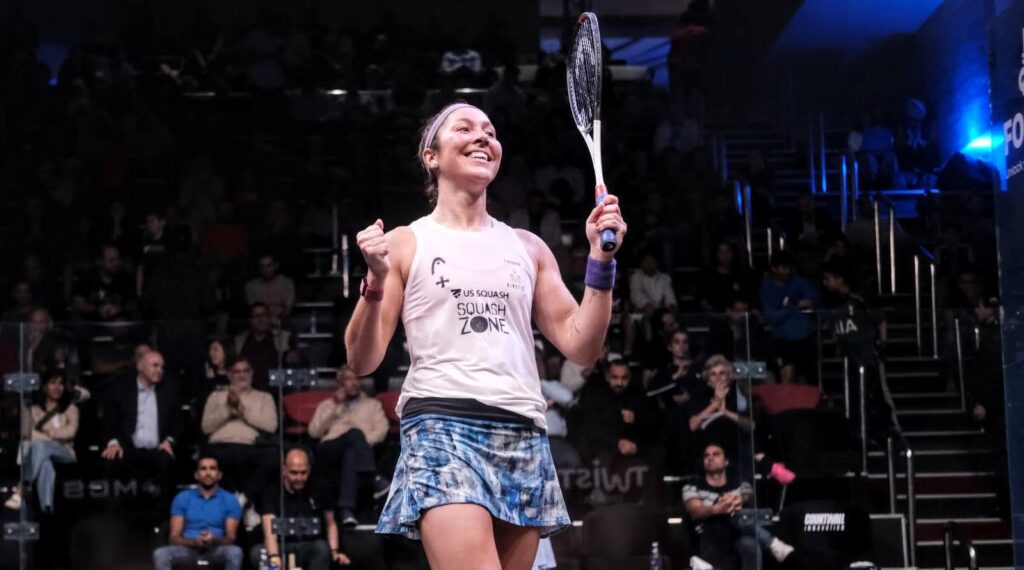 Berkhamsted base
Although El Hindi devised Walsh's gameplan for his most recent tournament, Walsh continues to receive feedback from Fuller and Carter.
Their Berkhamsted base is also frequented by the likes of Adrian Waller, Rui Soares, Ben Coleman and Grace Gear.
"Carts has got that recognition he deserves, but Adam is an unbelievable coach and has created an environment at the club you can thrive in," Walsh said, adding that he still has a one-to-one every fortnight with Vale, who he branded "technically one of the best coaches in the world".
"I'm enjoying the challenge of Florida, as it's the first time I've been outside of my comfort zone," Walsh added.
Squash's G.O.A.T
Although Walsh said his improved movement is allowing him to add extra subtleties to his game, he admits he is "not a shot player" and relishes his reputation as someone opponents feel they would have to battle for at least an hour to beat.
As for the player he most enjoys watching, Walsh nominated his recently converted countryman Mohamed Elshorbagy.
"In the modern era, you can no longer deny that he's the G.O.A.T," he said of 'The Beast'.
"The fact that he could potentially go up to world number one this week [at Canary Wharf] is ridiculous. I'd love him to get it. He burst on the scene playing in the red zone but throughout his career has evolved into seven different players. He could have retired four or five times over."
Mental health ambassador
After being "on the cusp" of some big wins against top 50 players last year, Walsh has made a breakthrough in 2023, beating Faraz Khan and good friend Charlie Lee in a Toronto Challenger event this month.
But the relaxed 23-year-old admits he no longer checks the rankings on a Monday morning and is more focused on improving his squash than the results.
"I'm doing all the right things. I've relocated to Florida. I'm putting in six hours of training every day. I'm doing everything I can to win, but if I get beaten by a better player, there's not much I can do about it," he said.
Walsh was formally confirmed as a Sporting Chance ambassador in November (alongside fellow squash pros Lucas Serme and Mary Fung-A-Fat).
"They wanted me to be one of their first ambassadors. With everything I'd been through they thought I was the perfect fit. The charity is doing some amazing things."
When Walsh first contacted the charity, which was set up by former Arsenal and England footballer Tony Adams in 2000, he had no idea it was affiliated with the PSA. The partnership meant that all his sessions were fully funded.
"Even if they weren't I would have paid the weight in gold," he concluded, however.