Putting together a James Willstrop highlights reel is up there with 'chocolate tester' and 'private island caretaker' as the one of easiest gigs out there.
That is of course, if like me you are an avid squash fan who has been following 'The Marksman' on Squash TV down the years.
Arguably, no other player hits such an array of winners with the same precision as Willstrop, meaning it wasn't hard at all to dig out the 40 clips that comprised our '40 at 40' video for the Yorkshireman.
Skills to pay the bills
It is Willstrop's range of shots – along with his quiet stoicism and humble nature on court – that makes him many fans' favourite player to watch. Other professionals I've interviewed have always been quick to praise his unrivalled shot-making abilities (see here and here).
It's those skills with the racket that have allowed him to continue challenging the world's top players on the eve of his 40th birthday (which occurs on 15 August)
With virtually no interest in social media and an on-court demeanour that would match a Gary Cooper performance, Willstrop feels like a throwback to a simpler, sometimes more innocent era of squash. He has outlasted all his contemporaries from that – what some would regard – golden era, including Nick Matthew, Ramy Ashour and Gregory Gaultier.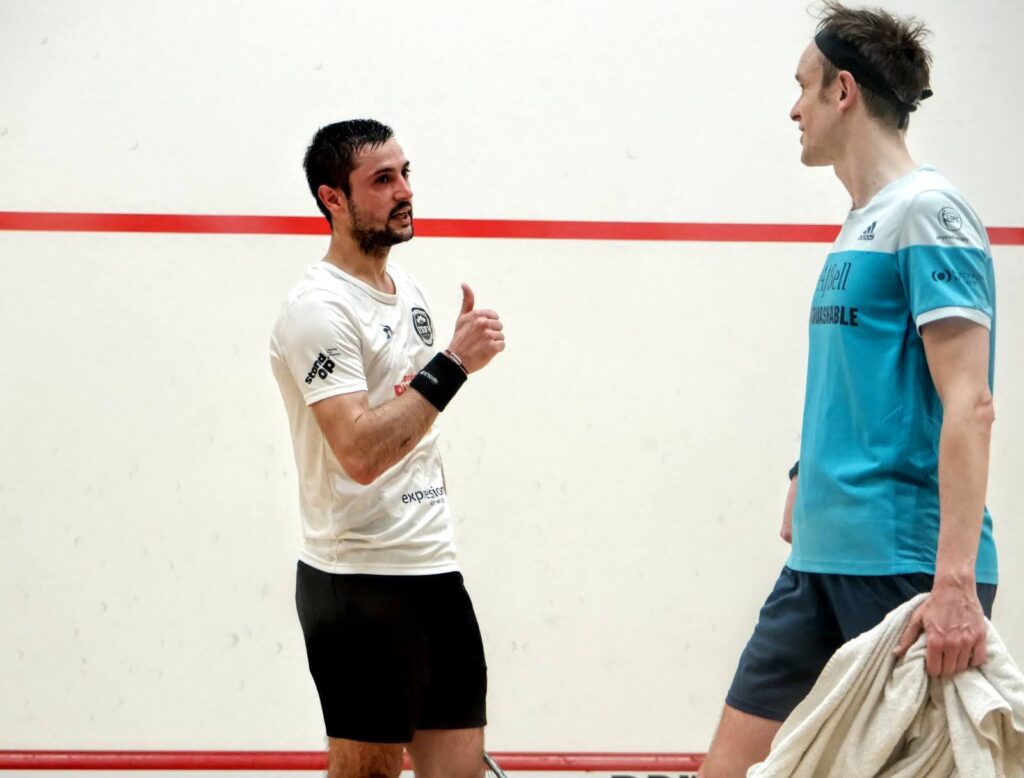 The 39-year-old Willstrop is arguably just as captivating to watch as the version who reached world number one 11 years earlier as he leans increasingly more on his racket skills and less on his physicality.
He really shouldn't be matching top pros 10 or 15 years his junior, and yet he still is – taking two 28 year olds ranked above him to five games at the British Open and World Championships in April and May (including Baptiste Masotti – pictured above).
Every shot has to count, making Willstrop a master of attention to detail and beacon of how the game should be played to younger pros.
The reel thing
Willstrop was blessed with some of the best ball control on the tour even at an early age, however, meaning you don't have to search for too long to find 40 shots worthy of a highlights reel.
The Yorkshireman may be most associated with his long drops and windmills, but – as the video above shows – he was almost as likely to beat opponents with a subtle hold to deep, a disguised boast or a cross-court nick (normally feathered in, rather than leathered like a lot of the Egyptians).
In fact, it is the bread-and-butter drop shots and holds-to-length – rather than fancy triple fakes – that Willstrop recalled with most fondly as he reviewed the video with us (see here).
As the last three clips show, he's also given us some of the best mega-rallies squash has ever seen.
Willstrop ran me through how he sees next season panning out, emphasising that he is "taking it week by week".
He is, after all, trying to balance the odd appearance on PSA with the demands that come with taking the Pontefract mantle from his late father, his second love of acting, and family life.
The Yorkshireman doesn't need to play squash professionally any more, and there's no guarantee he will – but any squash fan out there will have all their fingers crossed that his summer training goes well and he can get back on court next season (and, who knows, beyond).
The big question is: Will I be making a James Willstrop: 41 at 41 video!?