Ali Farag, Mohamed Elshorbagy and Diego Elias don't, but Mostafa Asal, Miguel Angel Rodriguez and Paul Coll do.
We are of course referring to the squash dive, a phenomenon that splits elite men's squash roughly down the middle (prominent divers in the women's game include Nour El Tayeb).
With this in mind, Squash IQ caught up with the player who arguably spends more time airborne than any other in the form of flying Frenchman Gregoire Marche, to find out how his on-court acrobats started, and what toll they take on his body.
In the interview, the world number 16 also reveals the secrets behind the current success of elite squash in France, and which player he most relishes facing.
Gregoire Marche's acrobatics 'came naturally'
The sight of a player making multiple dives to stay in a rally is a great advert for the sheer athleticism involved in elite squash.
Marche's taste for aerial antics began at a young age, he revealed.
"Until 20, I played so many different sports: rugby, tennis, judo, ping pong; we had a pool so I swam a lot," Marche told Squash IQ.
"I loved every sport, and that helped me develop the attitude of being free and easy in my movements. I felt it was natural to dive, the same way I would dive into my pool or when trying to catch someone when I was playing football. It came out naturally."
Extreme movement was also encouraged by Marche's first coach Cedric Hateau.
"He was fun on court. I just tried to replicate what he was doing. We trained together until I was 15 or 16 and he taught me always to keep my own personality and my own game and be creative and fun," Marche said.
Diving 'not a good sign'
Like 'Superman' Paul Coll, Marche harbours mixed feelings on the extreme movement capabilities that earned him his nickname ('The Acrobat'), however, acknowledging that diving can be a sign that a player is out of position.
"I don't think it's a good sign if you dive, as it means you've not read the shot the right way," he said.
"You're not really supposed to dive, but I'm a big fighter. I don't want to give up on any points even if it costs me a lot of energy. I want to win every rally and I've been like this from a very young age."
Does diving hurt? "Not really", Marche maintains, although the 33-year-old – who is currently playing some of the best squash of his career – admitted he can't do it "as much" now he is "not that young anymore".
Gregoire Marche's mental demons
Although Marche was something of a squash prodigy (his parents bought a squash club when he was aged one and he won his first French nationals aged seven against boys two years his senior), his progress up the rankings stalled in his mid 20s.
"I was between 25 and 35 in the rankings for at least four years, and I couldn't make the step up. I had some good results, but couldn't find the consistency," he explained.
"So I decided to change coaches and work with a mental coach. Physically, I was playing at top-10 level, but the problem was the mental side," Marche added.
"I was putting too much pressure on myself. My aim was to be top 10 in the world, and I always told myself if I don't make it, it's going to be a big disappointment. I was playing for the wrong reasons."
Despite being a mainstay of the top 16 since 2019, the mental aspect of the game remains a work in progress, Marche revealed.
"There have been some bad moments when I didn't enjoy my time on court. I was putting too much pressure on myself again as I wanted to be top 10," he said.
"But is it going to be a big change in my life if I'm 11 or 10 in the world? I'm trying to enjoy what I do on court, and if it doesn't work, that's okay."
Free-flowing Farag
Marche singled out his recent second-round encounter at the Optasia Championship with former world number one Ali Farag as a match he particularly enjoyed, despite losing in five.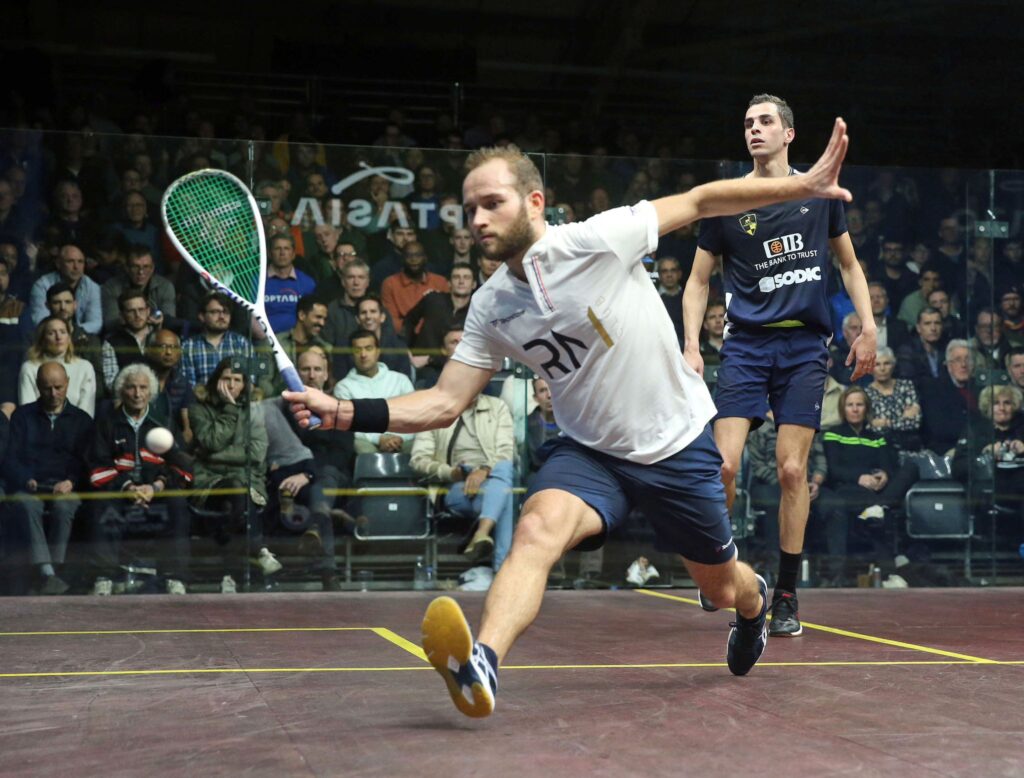 "There are a few players I hate playing against. But as I said two weeks ago when I played Ali, even though I was 2-1 up and lost, it's always free-flowing squash and that's how it should be," he said.
"With what we've seen in the last few months, when you step on court and you know there's not going to be any problems it's so much easier to enjoy the game and think just about squash, rather than the movement and what your opponent is doing."
The controversies of recent months feed into wider fears Marche has around the commercial success of squash, which he said must learn from the world's fastest-growing sport of padel.
"Sometimes I feel squash is a bit left off, especially in France and Europe," he said.
"I'm pretty sure squash is as interesting as padel, and we can easily make that step as well. It's a matter of time, and trying to import the right people into the right places. I just hope the PSA is working hard to make that step.
"Everywhere I go, the audience love squash. But there is much more to do in terms of coverage, the TV, cameras and trying to sell the sport a little more professionally."
French formula
That said, the depth of elite squash in France is at an all-time high, with five men (Victor Crouin, Marche, Baptiste Masotti, Sebastien Bonmalais and Auguste Dussourd) ranked inside the top 30.
Despite the retirement of Thierry Lincou and Gregory Gaultier (and more recently Mathieu Castagnet), France's National Centre in Aix-en-Provence has continued to churn out top professionals.
Having all the top players based together (Crouin is based in nearby Toulon, but often comes to Aix once or twice a week) is integral to the French regime's success, Marche argued.
"I've been at this centre since I was 15. We tried to replicate what Thierry and Greg were doing and had the chance to practise with them. And that's what we do now with the young players," he said.
"We always felt like after Thierry and Greg retired it was going to be tough, but there was always someone else trying to catch that rhythm."
Marche likened the French set up to the big clubs in Egypt that are producing a seemingly endless line of talented young players.
"Egypt now have three or four big clubs, and every year you can see someone coming through and almost becoming world number one," he said.
"We have a good group in Aix-en-Provence. It helps a lot to play together most of the year. The most important thing is to play matches at a high level and when you are [a young player]," he said.
Masotti match up
Marche faces a potential clash with countryman and fellow Aix-based Masotti in the second round of the British Open next week.
How does Marche rate his chances?
"Baptiste has a tough match [against James Willstrop] first," he said.
"I'll be there to watch! Although I play Baptiste almost every day in practice, I've never played Baptiste in PSA. I'm looking forward to it."
Win or lose, however, squash's most acrobatic player is determined to play the game with a smile on his face.
"Of course, I'm pushing every day to get to the top 10, but I'm trying to think more about playing my game and enjoying it as much as I can," he concluded.