With just 164 matches under his belt at aged 30, Ramit Tandon is something of an anomaly on the PSA World Tour and pro sport more generally.
While many professional athletes pursue corporate careers after retirement, Tandon did the opposite when he quit Wall Street in 2018 to join the squash circuit full time.
Talking to Squash IQ, the Indian number two reflected on whether the career gamble has paid off, his attack-minded 'Egyptian'-style game and how his coaches want him to become more aggressive on court.
British Open injury
The world number 34 was in a philosophical mood after a possible hamstring tear sustained during the warm up forced him to concede his first-round match at the British Open yesterday.
"I did three or four plyometric jumps. While doing one of those I felt a sudden, sharp pain behind the knee," he told Squash IQ.
"Normally [with a hamstring injury] you make a lunge or you slide and you know it's happened. In my case, it was fine when I practised yesterday and fine when I started the warm up. But that's how sport is.
"It's not a grade 3 tear, which is good news. I'm in the World Championships and would love to play it. If everything goes well, I will be there."
Ditching Wall Street for four-walled sport
Even the prospect of competing in the World Championships was unthinkable for Tandon as recently as 2017, when he was working full-time for a New York hedge fund.
Having played college squash while at Columbia University between 2011 and 2015, the six-time Indian junior national champion regularly practised against top 20 players during his two-year stint on Wall Street.
But as he neared his mid 20s, Tandon began to worry that he had played it too safe – an experience he documented in a 2019 TedX talk (see below).
"I was still training with a lot of the pro players in New York, including Ramy Ashour and Ryan Cuskelly. I was still passionate about the game. But I didn't have the flexibility to travel around the world," he said.
"It was a 'now or never' situation.
"I knew I could always go back to sitting on a desk and working but that the time I could spend on a squash court was limited."
Playing catch up
Joining the tour late means Tandon has typically racked up less than half the court time of similar-aged pros in his ranking bracket.
While Tandon has played 164 PSA matches, Greg Lobban (aged 30), Lucas Serme (31) and Nathan Lake (30) have taken to the court a respective 348, 389 and 345 times, for instance.
"I don't have a lot of squash in me," he conceded.
But Tandon sees his relative inexperience as an advantage over his contemporaries.
"The normal metric for looking at an athlete's lifespan is age. I ignore that, because I didn't start until I was 25 or 26. I look at it in terms of seasons and my development as an athlete," he said.
"A lot of athletes my age have fulfilled their potential as they've been on the circuit for 10 or 15 years. But my coaches and I believe there are a lot of areas I can still improve."
"I've been fortunate to have seen the other side," Tandon added.
"I know that I don't have to report into anyone, and whatever I do I do for myself, instead of having to please my boss."
Appetite for risk
As a former hedge fund analyst, it's apt that Tandon has an appetite for risk on court that is matched only by the more attack-minded Egyptians.
"I do like moving the ball around," he said.
"I don't play the attritional or safe way. I like taking my chances and taking risks, using the variety and the height and mixing things up a bit. It's very similar to the Egyptian style," he said.
But despite hitting his highest world ranking of 33 last month, Tandon is first to admit that his relative inexperience means that elements of his game remain a work in progress.
Mastering the mental side of squash is Tandon's top priority, he revealed.
"The training you master, the athletic ability comes with practice and the skill you develop. But the hardest part for me is the mindset and the mental said. That is something I'm working on," he said.
"I don't feel that I've explored myself fully as an athlete and am still learning about how I function on court. The more time I spend on the PSA, the more that will help me develop that."
Getting fired up
Tandon's coaches are keen to ignite more of a fire in his belly, the laid back 30-year-old revealed.
"I'm relaxed about most things in life as a person, and that's a big reason why I portray that kind of attitude on court," he said.
"I think to play to your potential you need to be who you are: you can't fake aggression or being relaxed."
"I like controlling my emotions and staying calm. Sometimes I'm still smiling even when the decision goes against me and I know it's the wrong call, because there's not much you can do about it," Tandon added.
"A lot of people feel I should be a little more aggressive, and that's a conversation I have frequently with my mental coach. But I feel it's about finding a balance – you need to be yourself at the end of the day."
King of Kolkata
That relaxed mantra extends to Tandon's life outside tournaments, which is geared around his home city of Kolkata.
To get up to speed with Platinum tournament-level squash, Tandon typically travels to the UK or Egypt to complete a two-week training block before a big tournament in the two countries.
"For me and [Indian number one] Saurav [Ghosal] it's a little problematic finding top 10 players to spar with, but at the same time there are a lot of benefits to being back home," he explained.
"As an athlete it's important how you feel emotionally and when I'm around my family and friends it does make me feel happy and that allows me to bring out the best version of myself on the squash court," Tandon added.
Indian squash's bright future
Despite Tandon's lack of regular sparring partners, Indian squash has recently hit its high watermark, with four men and three women currently sat inside the top 100 (while 14-year-old sensation Anahat Singh was the youngest athlete to represent India in last year's Commonwealth Games).
 "Saurav and Joshna [Chinappa] have been the greatest male and female players in India ever, and they are definitely big shoes to fill," Tandon said.
"But there is a lot of depth. With my ranking going up recently, I'm the second highest-ranking [male] Indian player ever, and we have a bunch of players in the top 100 now and a strong junior squash programme."
Tandon and Ghosal prevailed at the Asian Team Squash Championships in November alongside teammates Abhay Singh and Velavan Senthilkumar (both aged 24), while the women's team took bronze.
"I don't think we are in a bad position in terms of backing up the current generation. I think Indian squash has a bright future," Tandon said.
Has the punt paid off?
Tandon quit his Wall Street job with the backing of his family and colleagues, safe in the knowledge that he can resume his corporate career in his mid to late 30s.
For now, however, the punt he took five years ago looks to have paid off like a particularly shrewd Wall Street trade, despite yesterday's injury set back.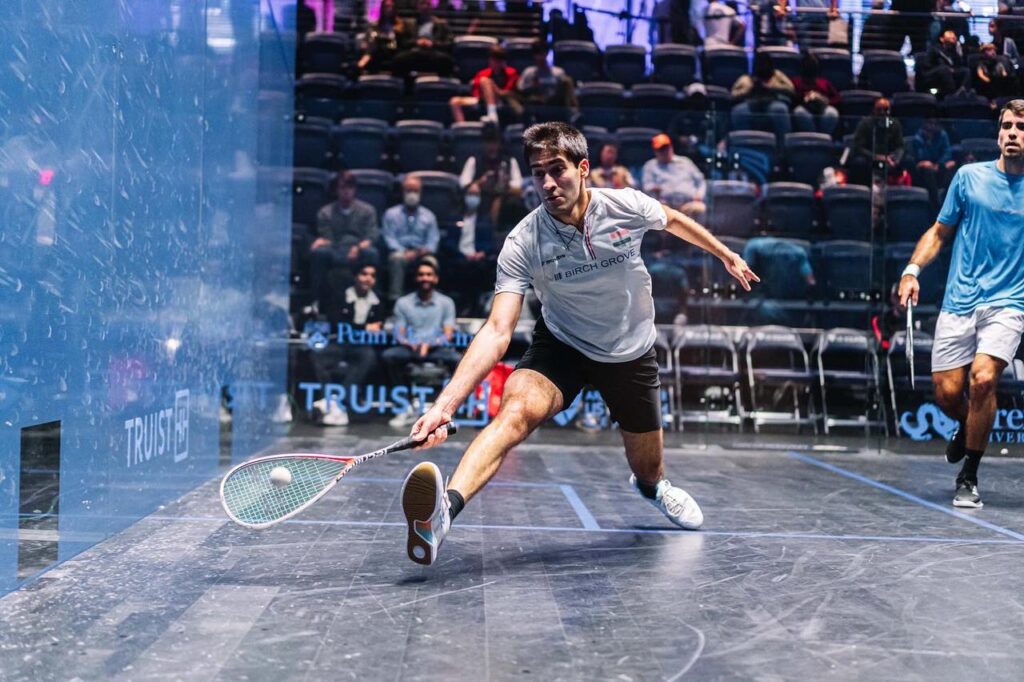 "If you ask someone like Saurav, who's 36 and in his 18th season, he'd give you a different perspective, but for me it's still a happy face," Tandon said
"I'm not at the point when I'm bored. Will I do it for a few more years? Five more years? I don't like putting a timeframe on things, and take it day by day.
"It's a lot of fun travelling the world, meeting people and competing at the highest level of the sport. I wake up every morning with the motivation not just to show up at the office and crunch numbers, but to train towards something bigger, where you're representing your country or trying to win a championship."