I played the British Open in 1996, which was held in Cardiff. I wasn't aware of this when I was growing up in Namibia, but the top-ranking player from Commonwealth countries could enter the tournament. I'd worked my way up the rankings to be Namibia's top player, and my squash association asked me if I wanted to play there. I was all over the national media.
I played the top seed from Israel in my first match, and lost 3-0. But it was such incredible exposure to world-class squash.
Soon after arriving in the UK, I joined the Southbank squash club, effectively for free, as they thought it was fascinating that this African boy had come all the way to the UK to take part in the British Open. I decided that I wanted to stay in the UK. But I had to work pretty hard to get a visa.
Amr Shabana at the pyramids
The Namibian squash association sent me to Egypt to play the all-African Games, and the top-ranked players then went into a tournament called the Pyramids Classic. I played Amr Shabana in the first round. He was 16 at the time. We played on the all-glass squash court at the foot of the pyramids in Giza. It was phenomenal. I lost in three, but it was an incredible experience.
Unfortunately, the game with Shabana was over before it had really started. He was absolutely clinical. I was 23 and playing the best squash of my life. But he was just a different league, in terms of how mature and disciplined he was. Previously, when I'd played younger players, they would lose their mind for three or four points or get easily rattled. But he was the polar opposite. He was very controlled. I had no idea who he was going to become.
I applied for a work permit for the UK while I was in Egypt. The British Embassy in Cairo was organised chaos. I got a message a week later saying they'd granted me a two-year work permit. Had this not happened, I would have gone back to Namibia.
Life as a business owner
Squash has shaped my entire life, and what I have now in the UK in terms of family, children, as well as my company. I played a lot of squash for Surrey, Kent and Middlesex, and still play for Surrey league 4 today.
Setting up my IT services and support business, OryxAlign, took my attention away from squash somewhat, and it has become a lot more consuming now there are over 100 people in the business. But I've always felt that squash was good for balancing work with life. We've just started sponsoring the first and second teams in Surrey so to see them playing with the Oryx-branded tops is quite special for me.
When I'm playing squash I enter this squash bubble, which I love with a passion. If I went for a run or to the gym, I'd be thinking about work. In squash, you can just clear your mind. When you're on a squash court, you only have to think about your movement, getting back to the 't' and winning the next point.
My squash life today
I had a big break from squash due to a double Achilles rupture. When it happened, I went down like a sack of potatoes, and my heavily pregnant wife had to pick me up and take me to hospital. For the first ten seconds I didn't know what was going on. It wasn't like the classic gunshot that goes off. It felt like the whole floorboards had come up.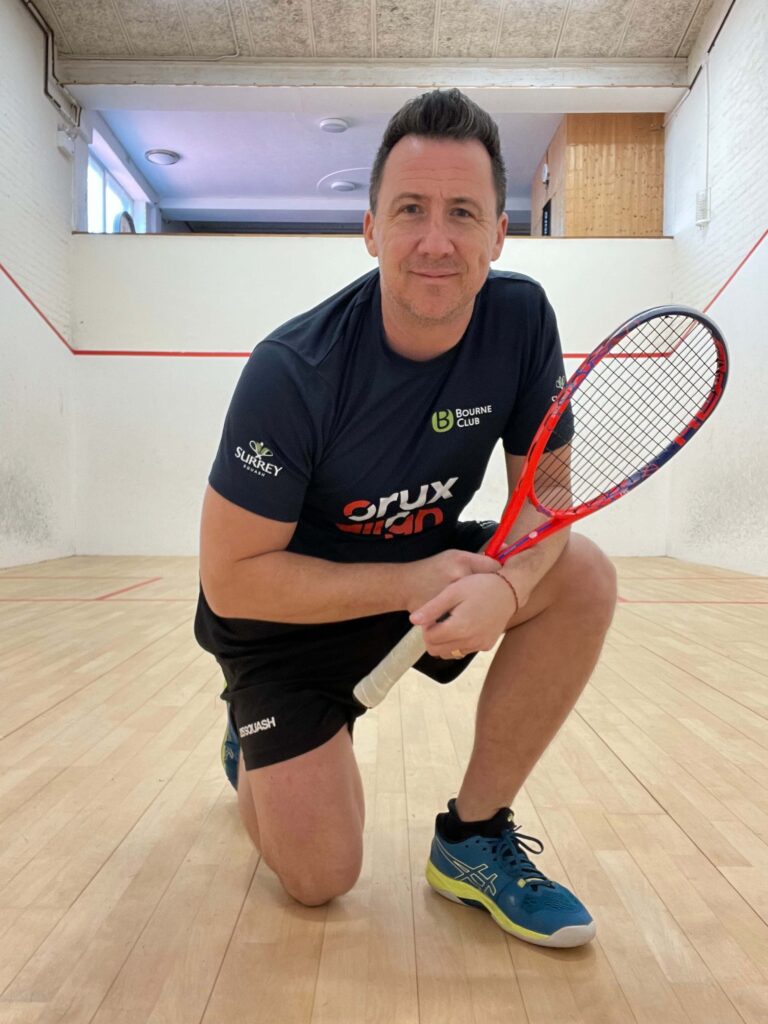 That took me out of squash for five or six years. But I'm now fully back. My Achilles is absolutely solid, but I'm having to work really hard to get back to the level I was at 15 or 20 years ago. Who knows if I will really get back or not? But at the moment my attitude is not to give up until I do.
The decline of squash in England does worry me hugely. I just can't get my head around it. Padel is the world's fastest growing sport, but everyone I know who's played it says you don't get a workout from it.
The fact that squash is not an Olympic sport depresses me greatly. It's done incredibly well to try and maintain its popularity with all the glass squash courts and advertising money that's going in. I think the issue lies with junior squash – I just don't see the development being put into it [see related story here].
I've become a bit outspoken at the appalling lack of junior squash in England. In my squash club it's pretty much non existent. I've got a big issue with that. If I had a bit more time on my hands – which I might have going forwards as the company is doing really well and I've got a new leadership team in place – I would want to try and develop junior squash more.
Childhood reflections
Namibia doesn't really feature on the global stage in squash, but nonetheless it's a very popular sport there, much the same as it is in South Africa and elsewhere in southern Africa. Squash in Namibia was so family oriented – Sunday sessions and tournaments followed by barbecues. There was always lots of joviality. It had a big community and family vibe. I was at the centre of that and loved every minute of it.
When I was in Namibia I played Trevor Wilkinson, who was the South African number one or two at the time. I was a young boy aged 16-17, playing in front of a home crowd. The place was absolutely packed. He beat me 9-0, 9-0, 9-0. I remember almost being in tears as I came off. But I respected him so much for it.
Zambia was incredibly strong at squash. I went to play there, as there was a boycott happening in South Africa, with the political situation. At the time, Zambia had a British coach and they were incredibly good. I was overwhelmed with the level of squash the Zambians played and the discipline and fitness they had. I became good friends with one of their top players, Robby Lingashi.
The total prize money for winning the British Open in 1996 was £18,000, which was a pittance considering what you have to put your body through. I never thought I'd be doing anything else but playing squash. And maybe if there'd been a bit more money in squash that would have been the case.
I don't shout and scream about the fact I played in the British Open. When I'm playing in the Surrey League, it's not something I speak about unless it's appropriate. Sometimes they detect my accent and ask me about myself and why I'm in England, and I will tell them the whole story about Egypt – which tends to blow their mind.